Akon Village of Gogrial West County, Warrap State, is on the path to having a new international airport. This village is notably the birthplace of South Sudan's President, Salva Kiir Mayardit.
Gogrial West County Commissioner, Victor Wek Koordit, informed Radio Tamazuj about the ongoing construction of the Akon International Airport. The project is spearheaded by Wunkoc Engineering Company, a domestic firm.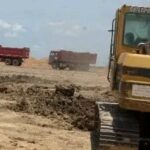 "Wunkoc Engineering Company has mobilized 120 trucks from Juba and is sourcing murram from Malek Alek in Aweil South county of Northern Bahr el Ghazal State," Commissioner Wek detailed.
Commissioner Wek emphasized the transformative potential of the project for the Bahr el Ghazal region.
"This new airport will enhance services, boost business, and simplify air transport for residents who previously had to travel to Kuajok, Aweil, and Wau for flights," he said.
However, specifics regarding the project's cost remain undisclosed. The procedure for bidding and the manner in which the contract was awarded to Wunkoc Engineering Company are yet to be clarified.
Malek Riing, the Director of Administration at Wunkoc Engineering Company, confirmed the airport's construction in Akon. He assured that the project would be completed within two years.
"The contract was formalized on February 15, 2023. We've sourced murram from Malek Alek town after an agreement with the community," Riing stated.
As part of the agreement, the company will also build a hospital and a bridge for the Malek Alek community.
This airport construction is the second major development in Akon, following the recent tarmac road project. Last month, Akon's residents celebrated the initiation of the area's first asphalt road. The roadwork is being executed by African Resources Corporation LTD, which is responsible for several interstate highways across South Sudan.