Juba, South Sudan, isn't just the administrative and political hub of the nation; it's also home to a growing beacon of enlightenment in the business realm – "Good Vibes Magazine." Under the strategic leadership of Deng Kon, this magazine is transforming how the South Sudanese and East African business communities access vital information about current business trends in the country. But what makes "Good Vibes Magazine" a standout publication? Here's a deep dive into its intrinsic values and offerings.
The Brain Behind the Brand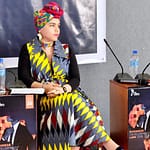 When you think of someone with a deep-rooted passion for the prosperity of South Sudan, Deng Kon tops the list. Spotting a gaping void in the local media landscape, he birthed "Good Vibes Magazine" to cater to the growing appetite for business information. His vision? A publication echoing the authentic voice of South Sudan's business milieu.
Diverse Yet Unified
Embracing diversity in content, "Good Vibes Magazine" champions a multifaceted editorial approach. With a team of seasoned contributors hailing from the private sector and journalism, it guarantees a rich tapestry of topics, from business and economics to lifestyle, fashion, ICT, and developmental projects.
Business: Beyond the Basics
Navigating the South Sudanese business landscape requires more than just intuition; it demands informed decision-making. That's where the magazine shines, offering profound insights into the local business world. From highlighting challenges to spotlighting opportunities, "Good Vibes Magazine" is the entrepreneur's compass in South Sudan.
Pulse of the Economy
For investors and businesses, staying abreast of economic trends is non-negotiable. The magazine offers exhaustive economic analyses, ensuring its readers are well-equipped to seize investment opportunities and adapt to government policies.
Lifestyle & Fashion: The South Sudanese Way
Beyond the dollars and cents, the magazine is a trendsetter in lifestyle and fashion, celebrating local designers and providing fashion-forward tips for its discerning readers.
Digital Revolution and Development
In a world driven by technology, "Good Vibes Magazine" offers a lens into the ICT advancements shaping South Sudan. Coupled with a focus on development projects, the magazine is a testament to the nation's transformative journey.
More than a Magazine: A Movement
"Good Vibes Magazine" isn't just ink on paper. It's a dynamic community where passionate South Sudanese converge for debates, discussions, and collaborations, united by a shared vision for national progress.
Wrap Up
In essence, "Good Vibes Magazine" is more than a publication; it's a revolution in the realm of information. As the brainchild of Deng Kon, it's etching a mark as an indispensable asset for the South Sudanese and East African business communities. As the narrative of South Sudan evolves, the magazine promises to be the chronicler of its promising business saga. Ready to join the movement? Dive into the latest issue of "Good Vibes Magazine" today!