Libya faces an unparalleled disaster following catastrophic flooding in the coastal city of Derna. Dam breaches, instigated by relentless rain, have submerged large parts of the city, leaving death and destruction in their wake.
The devastation is palpable. The confirmed death toll has crossed 6,000, as stated by Saadeddin Abdul Wakil from the Unity Government in Tripoli. With morgues overwhelmed and hospitals incapacitated, the healthcare system is strained beyond measure. In a somber display of international solidarity, 87 Egyptian victims of the flood were interred in Egypt.
While recovery teams frantically search for survivors, around 10,000 individuals remain unaccounted for. Authorities fear they might be entombed beneath the city's debris or lost to the Mediterranean's raging waters.
In the aftermath, Derna is struggling with a vast displacement crisis. Over 30,000 residents have been rendered homeless, reports the United Nations' International Organization for Migration (IOM).
The calamity has crippled Derna's connectivity with the rest of Libya, with only two of its seven access routes currently functional. Efforts to expedite aid and rescue initiatives are further hindered by this isolation.
Adel Juma, Libya's minister of state for cabinet affairs, emphasized the urgency of locating the missing and ensuring timely burial, respecting Islamic tenets.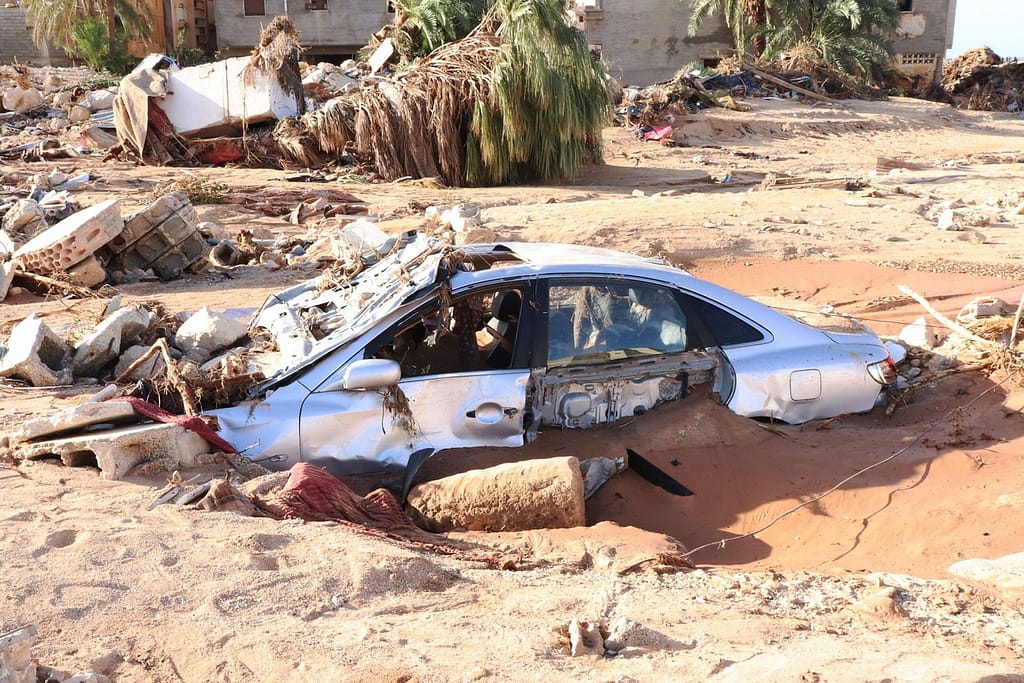 The backdrop of this tragedy is Storm Daniel, which, besides wreaking havoc in Libya, also caused significant damage in Greece.
Libya's flood crisis underscores the nation's vulnerability, especially given its tumultuous past marked by civil strife and political discord.
Amid the chaos, the International Rescue Committee (IRC) appeals to the global community to address this grave humanitarian crisis. With Libyan health systems already under duress, fears of waterborne diseases loom large.
Support pours in from various corners. European Union member states and neighboring countries have dispatched relief in the form of supplies, personnel, and financial aid. Satellite imagery starkly portrays the before-and-after of this devastation, especially focusing on the dam's catastrophic collapse.
Conclusion: Libya's recent flood crisis has spotlighted the urgency for international cooperation and rapid response in the face of climate disasters. With thousands dead and many more missing, the country, and indeed the world, needs to rally together, extend support, and build resilience against future calamities.