In a jubilant testament to faith and unity, Phaneroo Ministries has not only marked its ninth anniversary but also etched its name in the annals of record-breaking achievements. This Christian organization, under the leadership of Grace Lubega Matovu, orchestrated a captivating event aptly named "Clap for Jesus" at the UMA Multipurpose Hall in Kampala, Uganda.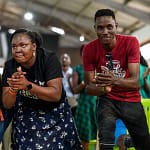 Phaneroo Ministries, known for its spirited congregations, has always stood out. This time, they outdid themselves, amassing a staggering 926 enthusiastic participants. Their mission? To sustain an uninterrupted round of applause for an astounding 3 hours and 16 minutes, all while maintaining a sound level above 80 dB.
This remarkable feat effortlessly surpassed the previous record, established by Clark Stevens and The Festival of Awesomeness (UK) back in 2019, by over an hour. What's even more remarkable is that the Phaneroo faithful never faltered; every member persevered, never pausing, and only stopping when the record was secured.
The event was not just a local affair. It was streamed live, drawing a captivated audience from across Uganda. Grace Lubega, the driving force behind Phaneroo, conveyed the message behind the celebration, saying,
"In times of tribulation, we choose to be a beacon of gratitude and thanksgiving, attributing our joy to our Lord and Saviour, Jesus."
This display of unity and celebration stands as a testament to the strength of faith and the power of community. While the world may remember it as a record-breaking moment, for Phaneroo Ministries, it's a reaffirmation of their unwavering devotion.
The history of applause records is filled with remarkable stories. Spanish opera maestro Plácido Domingo once basked in 1 hour and 20 minutes of applause after a performance in 1991, a record that astonished the world. A decade later, German band Grabowsky bested it, with an astonishing 1 hour and 30 minutes of applause after their performance.
Phaneroo Ministries now stands alongside these legends, celebrating their devotion, unity, and faith in the most resounding way possible.