Juba's women are experiencing a new wave of empowerment, thanks to the UN Peacekeepers Karate Training. Spearheaded by Chinese and Thai UN peacekeepers, this unique initiative is based in Narkdumn, Juba, and focuses on imparting essential self-defense techniques to women and children.
Beyond physical defense, the training emphasizes the significance of being alert and the procedures to report incidents, ensuring that women are equipped to safeguard themselves in challenging situations. This initiative seamlessly aligns with the United Nations' commitment to promoting gender equality and encouraging women's active roles in peace and security matters globally.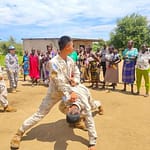 Such endeavors not only equip women with skills but also infuse them with confidence. It's a step towards a world where women's roles in peacekeeping and security are recognized and appreciated. As Juba's women become self-assured and capable, it paves the way for a community that's safer and more inclusive.
Conclusion: The UN Peacekeepers Karate Training serves as a testament to the global efforts directed at empowering women. It emphasizes that protection isn't merely about defense but about building a society where women can thrive with confidence and security.