In a disturbing incident, a 30-year-old woman in Kwajok, Warrap State, has been arrested for hammering 6-inch nails into her under-aged daughter's feet, as confirmed by the state Police Commissioner. The incident occurred on the morning of September 11, 2023.
The expectant mother, whose name has not been disclosed, allegedly committed this heinous act after accusing her 6-year-old daughter of frequently visiting neighbors' houses despite repeated warnings to stay at home.
The child is currently receiving medical treatment at the state child protection center, according to Major General Mayuol Abet, the Police Commissioner. He expressed his concern over the situation and clarified that the mother has been taken into custody.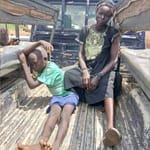 In her statement to the authorities, the mother claimed that her daughter's disobedience, including wandering from home and not assisting with household chores, was driven by the economic crisis. Frustration might have led her to commit this shocking act.
This incident follows a similarly distressing event that occurred five months prior when a man gouged out his 17-year-old daughter's eyes due to her refusal to accept an arranged marriage.
Editor's Note: It's important to clarify that this incident did not take place in Tonj but rather in Kwajok. The news source has accurately reported the location of the incident, and any confusion in the publishing process is regrettable. Wonusu remains committed to providing reliable news and information to its readers.